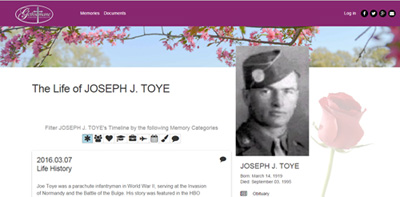 Everyone's life is a story, full of chapters, characters and accomplishments.
For those that wish to share their loved one's story, Gethsemane Cemetery has provided Living Memorials.
Our Living Memorial pages are more than just an obituary. They can share a life story, photos, videos, poems, condolences and much more. Posts can be tagged as family, relationships, education etc, as well as shared via social media from the site. Anyone can post on your loved one's Living Memorial page for as long as you would like.
You can even create your own page, keeping it private until your death, allowing your friends and family to share in your memories.
Because Gethsemane Cemetery feels every life should be memorialized and such a memorial can be an integral part of the grieving and support process, we provide this service at no charge. Feel free to Search for loved ones or Contact Us for more information.
"We were extremely happy with the services. They made a very difficult time much easier. Thank you!"
"They were great. I love this cemetery. My mom and brother are there besides my aunt and uncle."
"We especially want to thank your staff for their professionalism."
"Our whole family is at Gethsemane. Your service is excellent."
"Gethsemane is the most beautiful cemetery we have ever seen. It is beautifully maintained and cared for."
"The staff was very nice and greeted me with a smile to make the difficult meeting a little easier."