Thank you for your interest in the Gethsemane and St Mary's Cemetery Open House and Newsletter. Our Open House will be on Saturday April 30th and Sunday May 1st from 12pm to 4pm at Gethsemane Cemetery.
We appreciate you taking the time to see what we have to offer and invite you to review the newsletter, look around our site, view available property, reach out to us via our contact us form, or simply give us a call at 610-929-2613. Whether you are interested in cremation or traditional burial options, niches, or headstones and memorials, we will answer any questions you may have.
People do not want to burden loved ones with planning their final burial arrangements, but often struggle with how to start the conversation.
We provide you with the education, resources and options to have that conversation, empowering your loved ones and relieving the burden, when it matters most.
We are excited to announce that this years Annual Memorial Day Mass will be held in person at Gethsemane Cemetery. As you know, the pandemic forced us to cancel the Mass in 2020 and we provided an online Memorial Day Mass in 2021.
Gethsemane Cemetery's annual Memorial Day Mass this year will be on Monday May 30, 2022 at 10am, and will be held rain or shine. Fellowship and refreshments will take place immediately after the Mass.
Everyone is invited to this beautiful and long-standing tradition.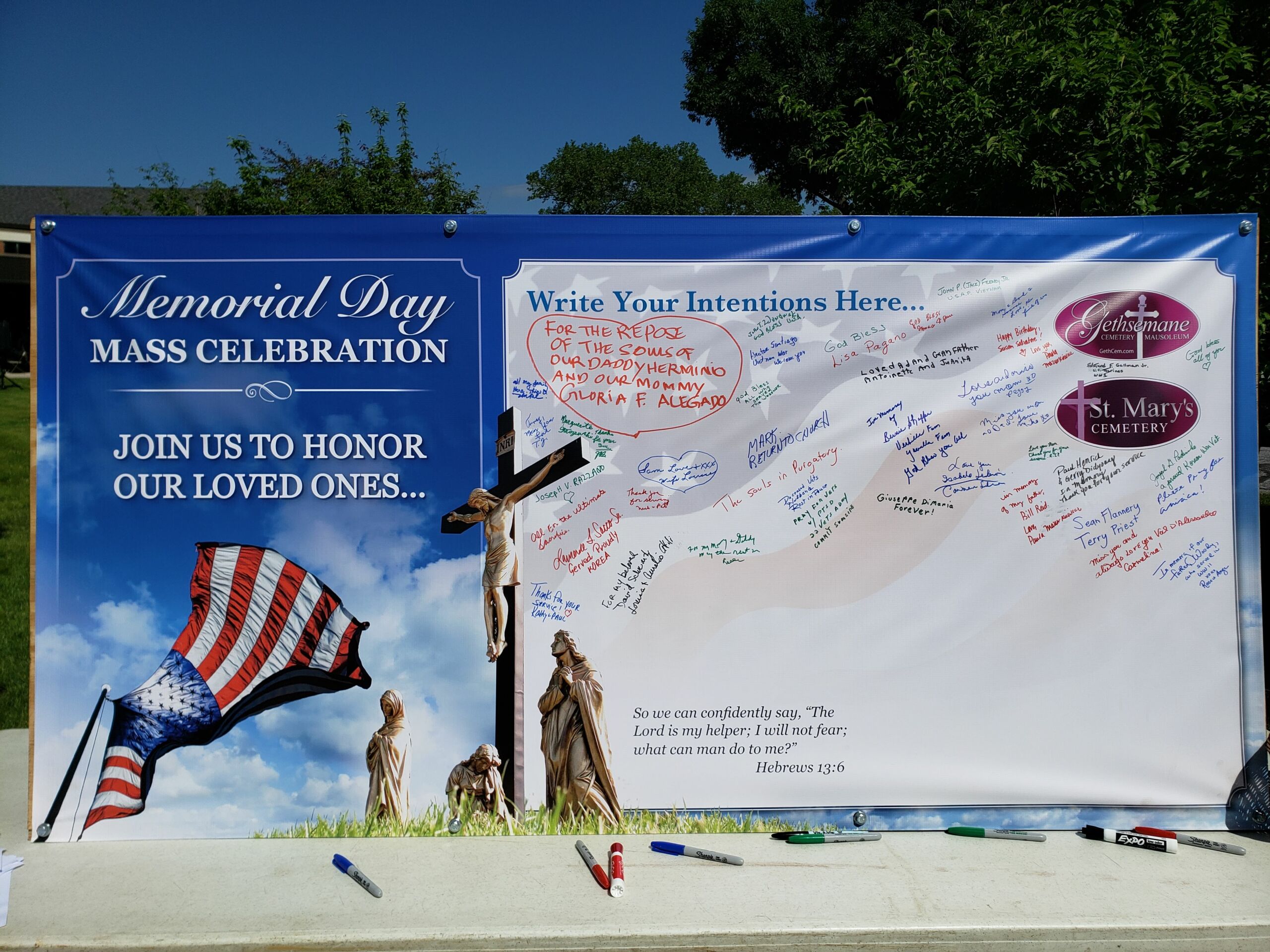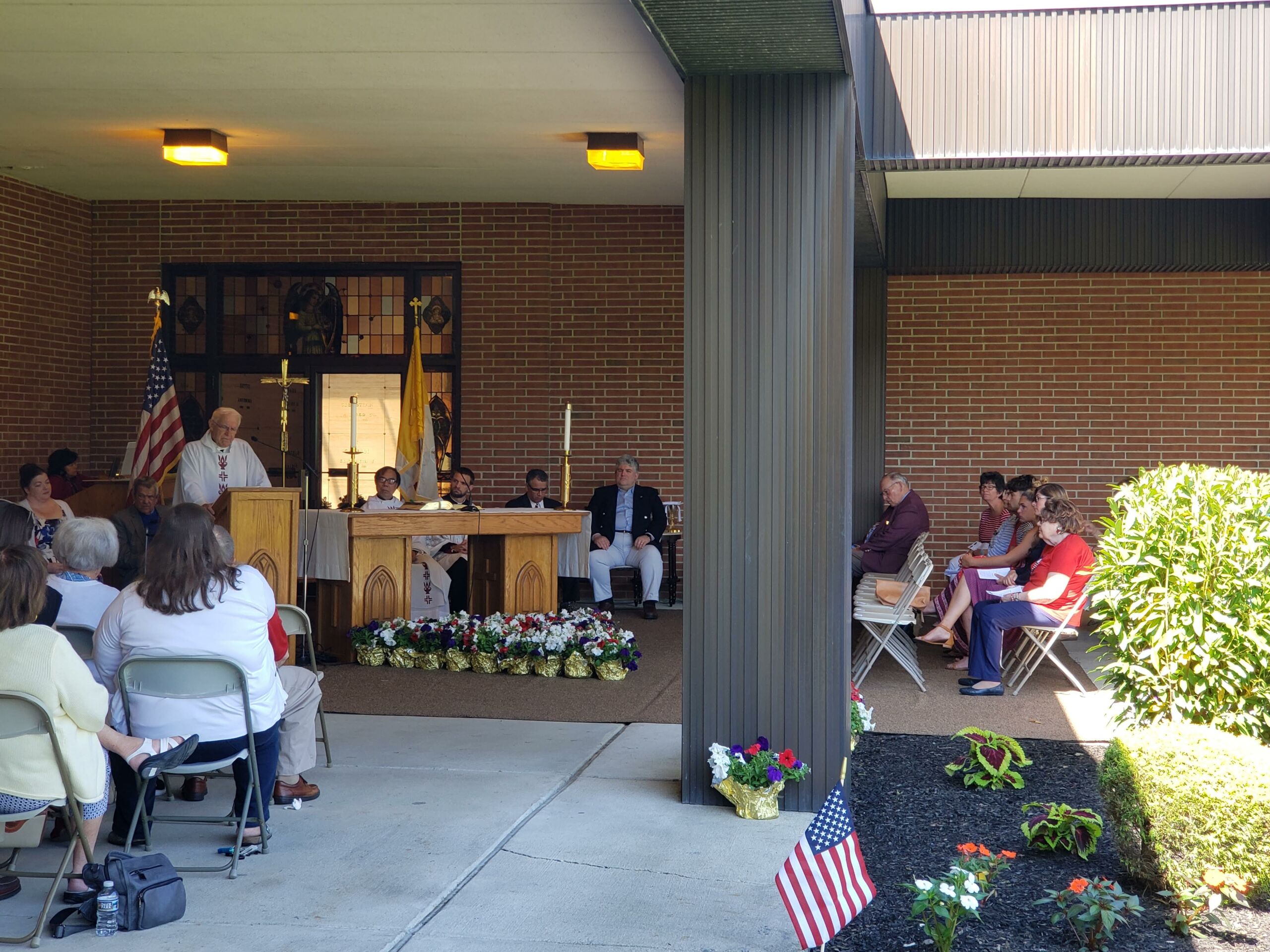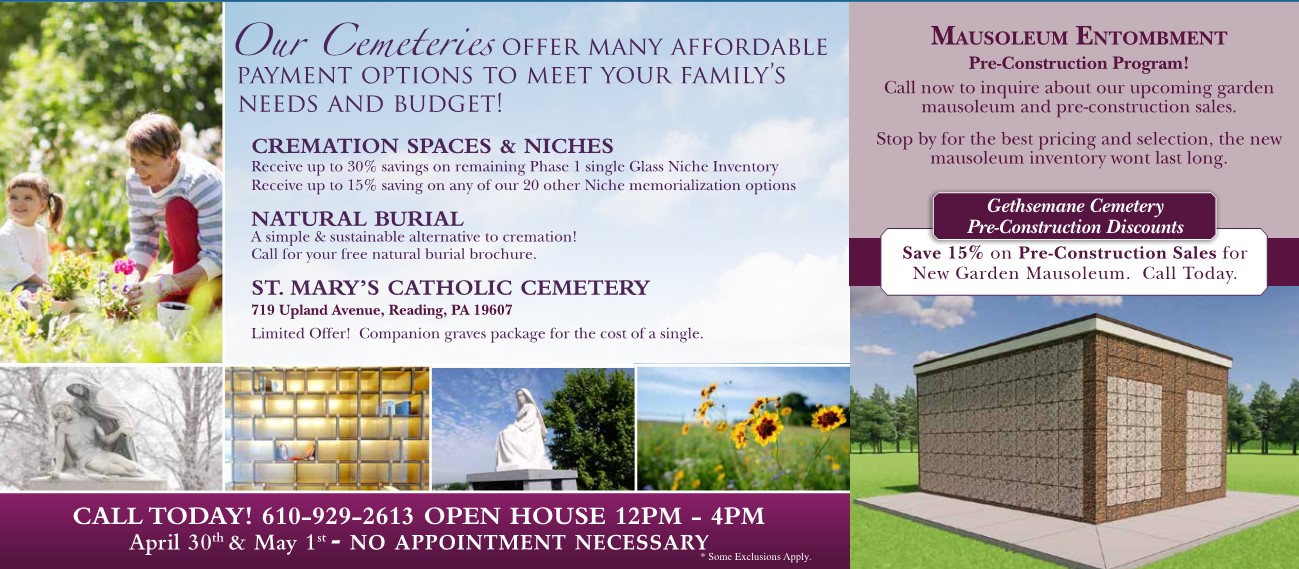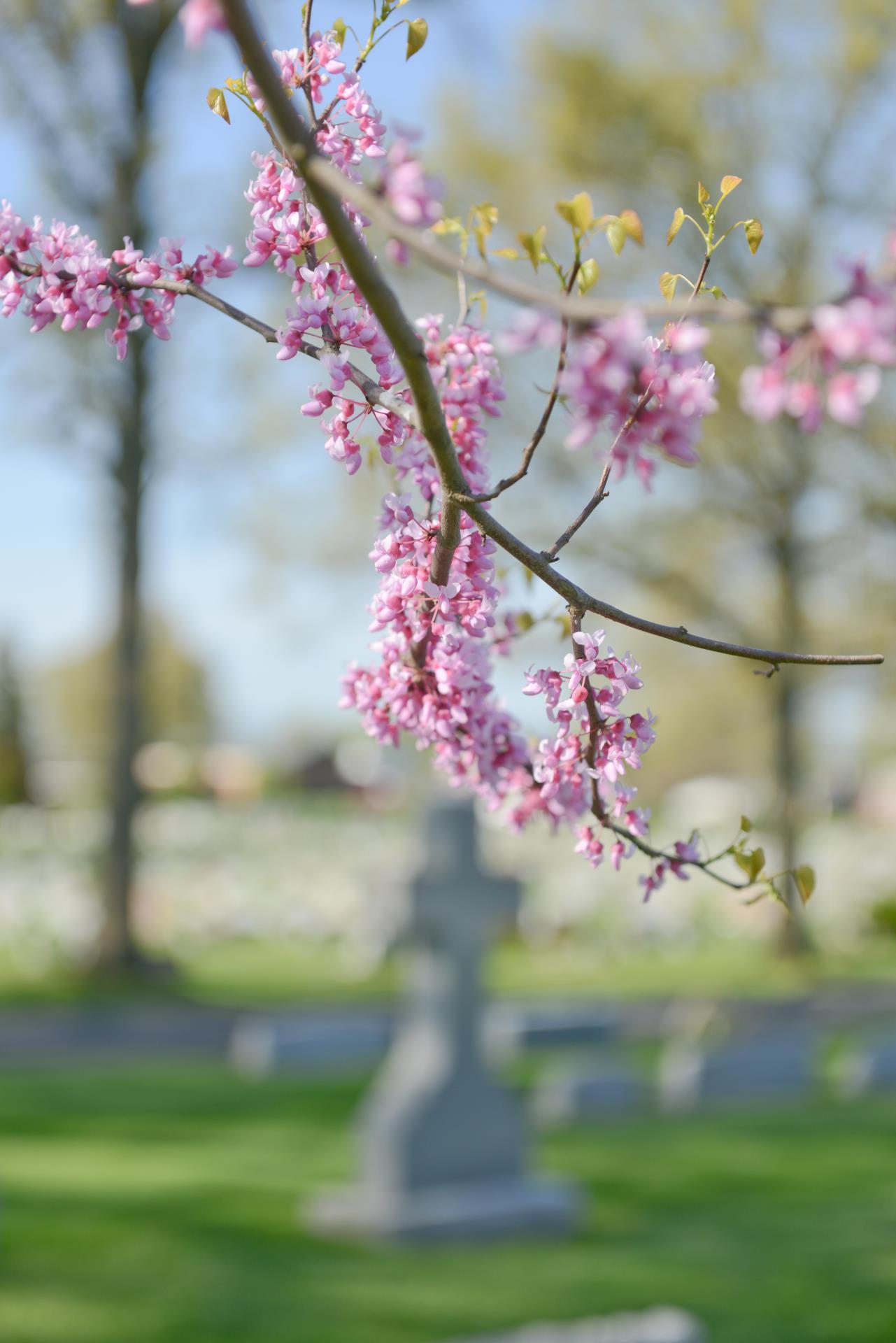 Open House & Spring Savings
Save up to 15% during our semi-annual open house event the weekend of Saturday, April 30 and Sunday, May 1 between 12pm and 4pm.
Our Open House event is an opportunity to stop by, speak to a representative, take a tour, and have all your questions answered. No appointment is necessary and there's never any obligation.
If those times do not work for you, please feel free to call 610-929-2613 or Contact Us and make an appointment for a time that is convenient for you. Let us know you are calling regarding the Open House and we will honor any discounts that were provided during the Open House.
We have begun the process of building a new Garden Mausoleum. This Mausoleum will be a 180 crypt and 96 niche Outdoor Garden Mausoleum. Although we have not reached a point in which we can sell pre-construction, we are taking names and creating a wait list.
With only 180 crypts and 96 Niches, availability won't last long. Once we are able to sell pre-construction, we will reach out to everyone on the list on a first come first serve basis, so the sooner you get on the list, the better the selection and availability. Call 610-929-2613 or Contact Us.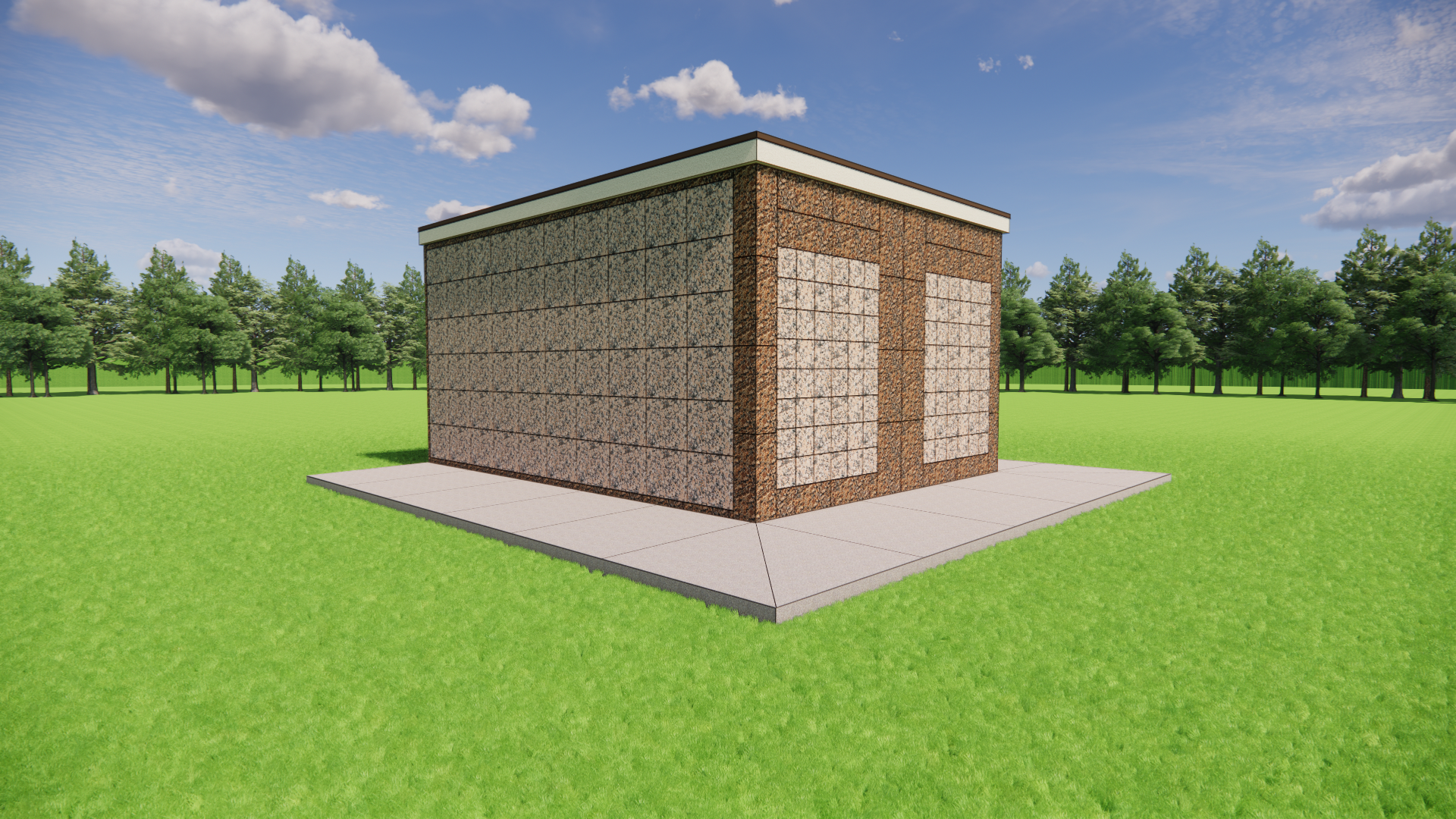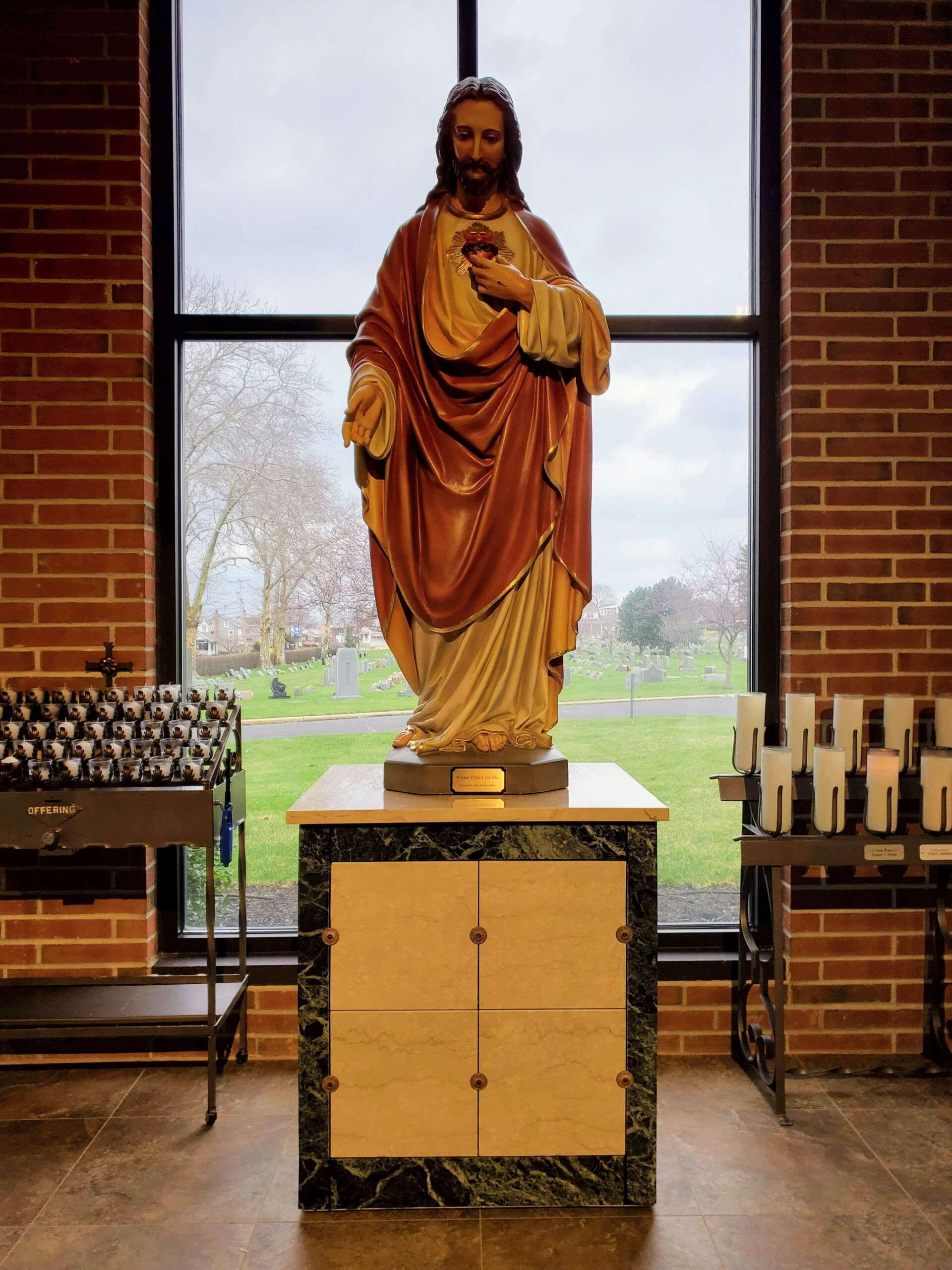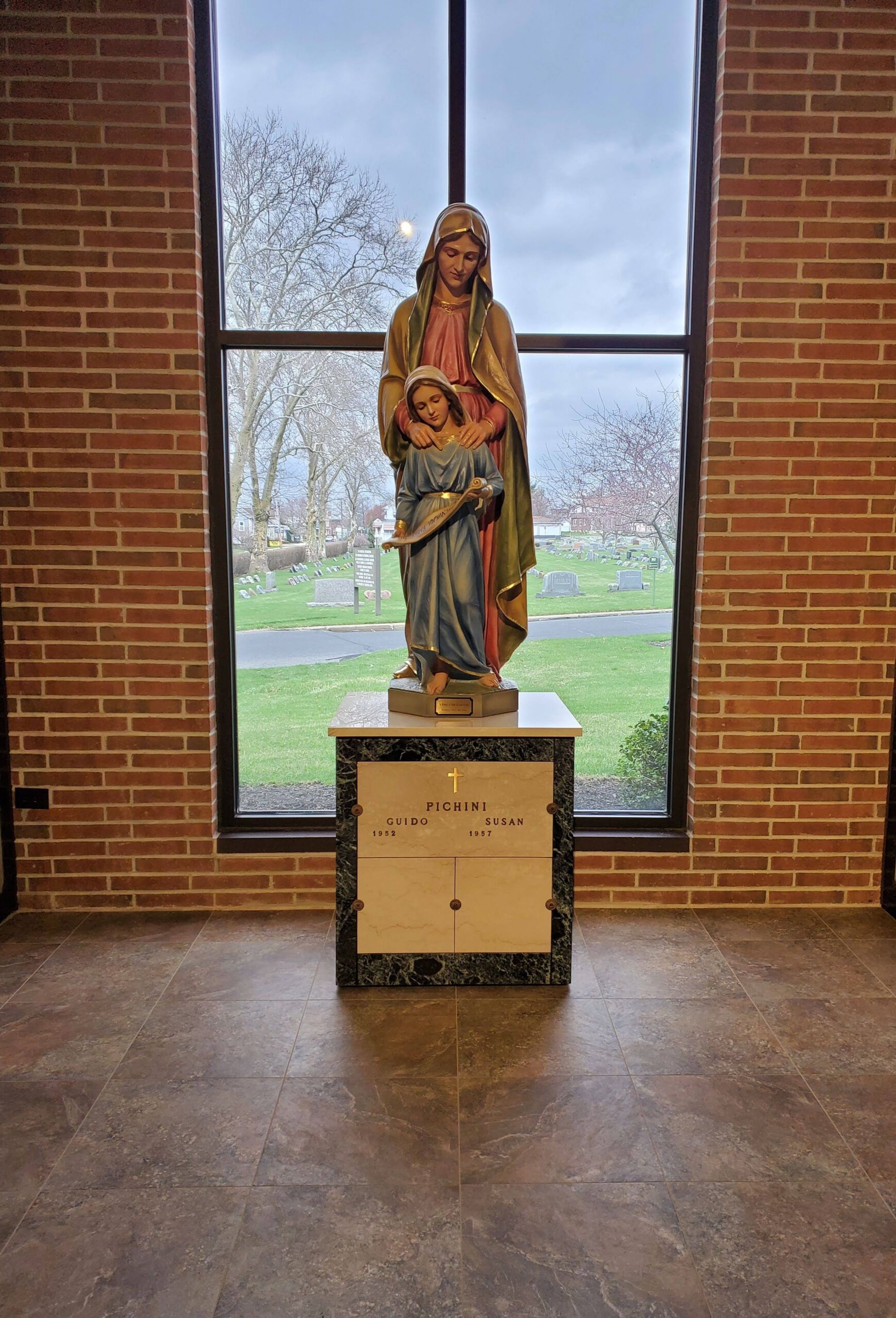 Gethsemane Cemetery is pleased to announce two new features in the Chapel of Resurrection.
St. Anne and Sacred Heart Statues have been placed in the Chapel. The bases are custom designed niche units, with four oversized niches for multiple cremation entombments.
The Sacred Heart Niches are available but there are only four, so they wont last long. Please Contact Us  for more information.
Gethsemane Cemetery has become part of the home to a sizeable herd of deer. While the deer are calling adjacent properties their permanent home, these deer are seen grazing at the cemetery on a daily basis and in all areas of the cemetery. They have been eating many of our shrubs and trees and will look for plantings all year as well.
We ask everyone to please keep an eye out for them, please do not feed them, and think about deer resistant plantings for your lots. Annuals such as Ageratum, Sweet Alyssum and Snapdragons are just a few of the sun-loving annuals that deer tend to avoid. Here is a simple Google Search Link for deer resistant Annual flowers suggestions.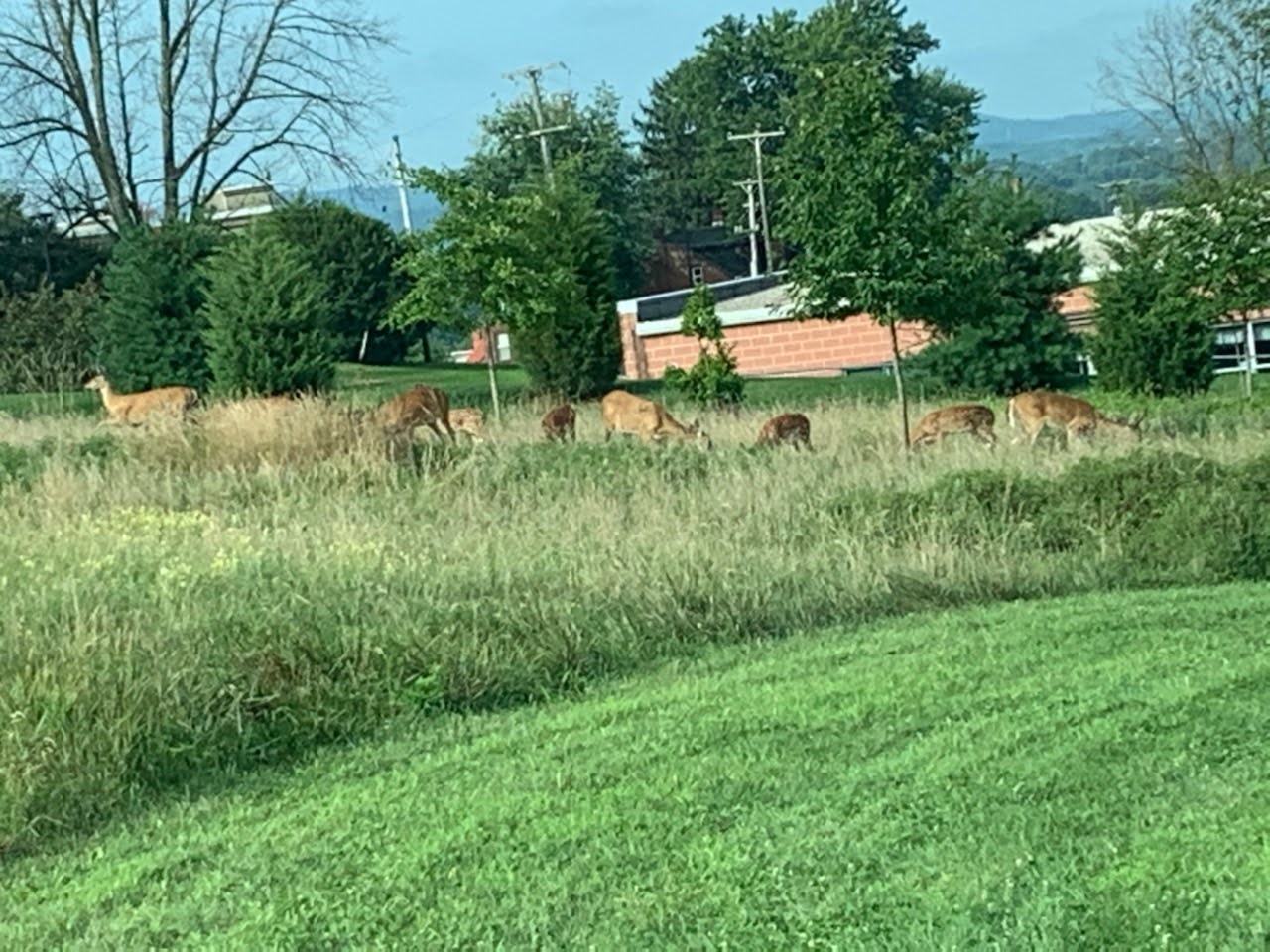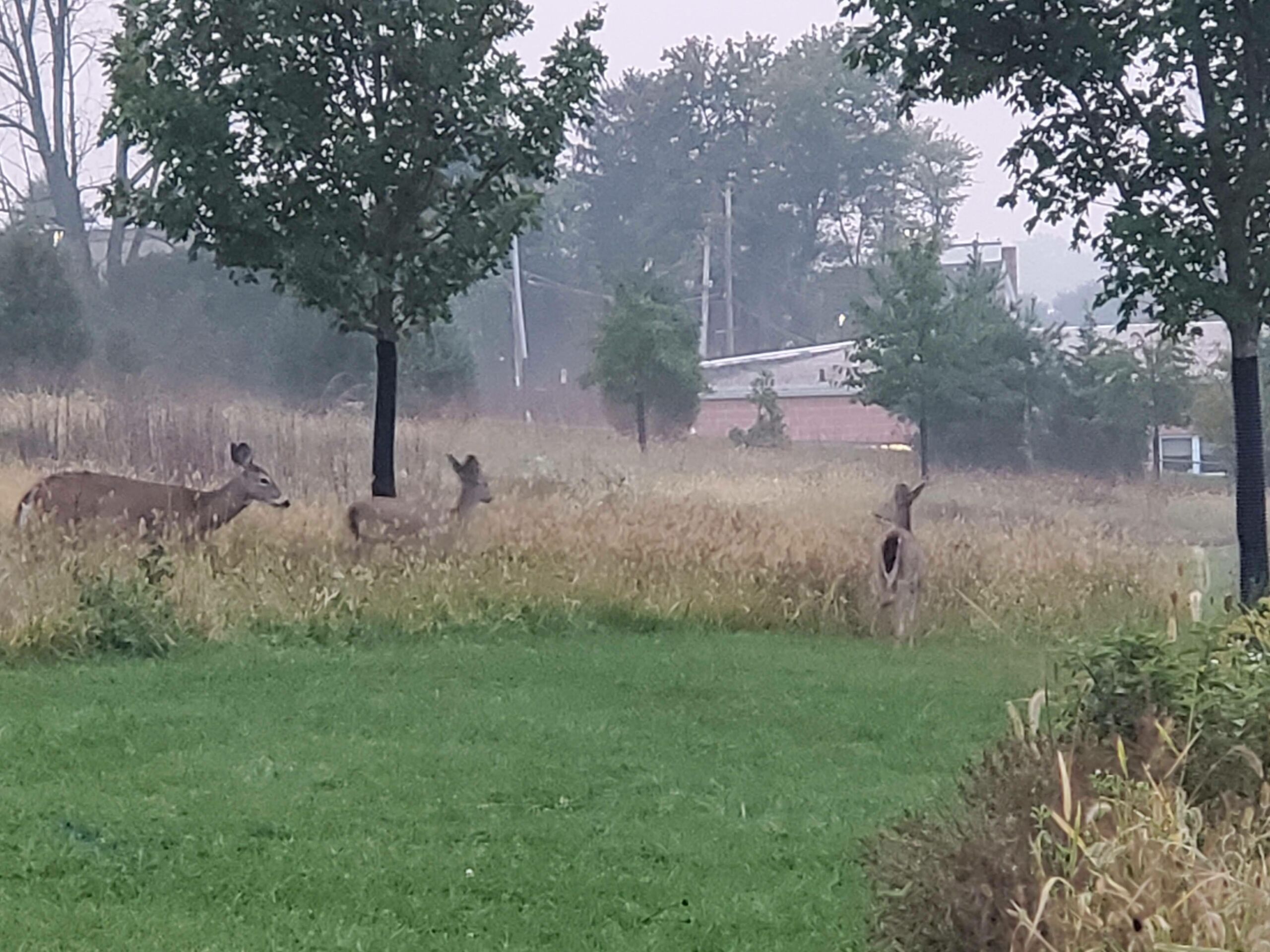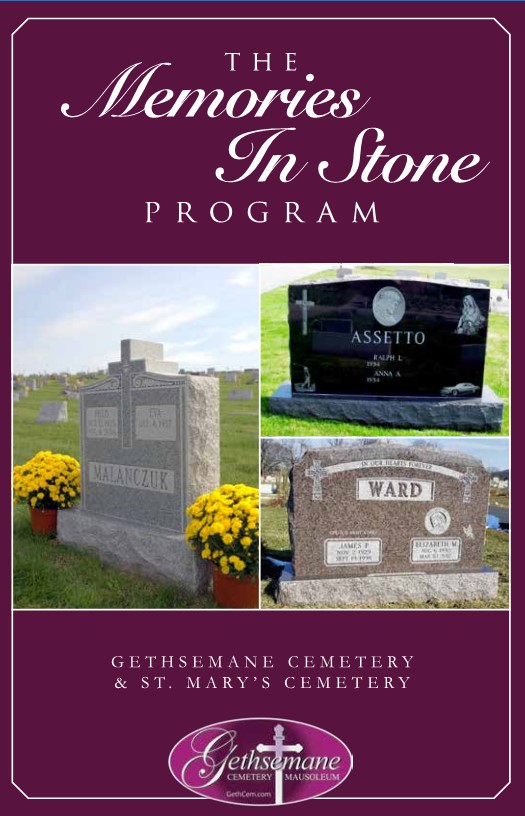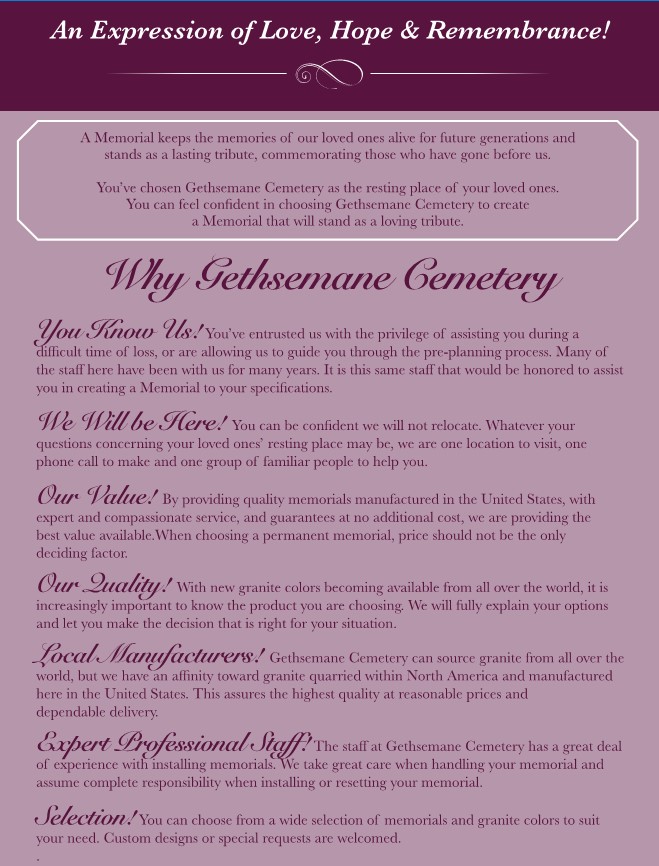 Gethsemane Cemetery can help you design a beautiful granite memorial for you or your loved one.
As your memorial will be installed in our cemeteries, we have a vested interest in the design, quality and maintenance of your memorial. After all, your memorial will shape the landscape of our cemeteries. In order to provide you with the greatest value and peace of mind, we offer Certificates of Guarantee on our preferred memorials at no additional cost.
We welcome the opportunity to be of assistance to you and as always, we will be here when you are ready to sit down and design a lasting memorial. To inquire about a memorial, or to set an appointment, please Contact Us or call 610-929-2613. You may also download our Memorial Brochure.
Mobile App & Memorial Pages
We are continuing to let everyone know about our Mobile App and our memorial Pages. You can find our mobile app and memorial pages here. When you find a loved one via the search, the memorial page will be an option to choose.
Our Mobile app allows you to search for deceased, view information and obituaries, visit the memorial page, see the closest 360 view of the burial area and get directions directly to the grave site.
Our memorial pages provide a place on our website where families and loved ones can share and collect memories. There is no additional charge for this service, it is available for everyone interred or entombed at Gethsemane and St Mary Cemeteries.
Call 610-929-2613 or Contact Us if you would like to learn more.